Last Year's Disappointments Don't Matter this Year.
We all hoped it would be a better year for the Denver Broncos, but it wasn't.
Oh well, we all have our building years, right?  Mikelle doesn't really care about last year's disappointment as long as she can hang out in Bronco's country with two of her favorite people.  Her brother, Kasey, and nephew, Jack.
Back in the day, when her brother Kasey was a young teenager, Mikelle would accompany him to training camp at the University of Northern Colorado, where I  worked at the time. I'd be at my desk working, and Kasey would take Mikelle in her manual wheelchair, her cute giggly self nearly leaping out of her chair with excitement, and push her to the front of the gaggle of Bronco fans, where she inevitably scored the best autographs. It became a tradition for them, only interrupted by Kasey's time living in New York and California. Once he moved back to Denver, the ritual began again.
Football Inspires More than Scoring a Touchdown
I do not doubt that Kasey's passion for football inspired Mikelle to become a fan. And it didn't hurt that the players loved her, too. But, to her brother, Mikelle is a bit of Bronco bait. She can get the autographs. He can't.  Mikelle's magic is to be experienced, and this year, her nephew Jack, also an avid fan and whose middle name is Elway, gets to see the Mikelle Magic in action.
Disability Friendly
I have to say that Bronco's organization is very disability friendly. For example, as the morning temperature approached 90+ degrees, the training facility had a covered ADA section with nearby water stations and misters to keep fans cool.
No cheerleaders this year for us as we were late and the prized ADA section was full, but the Bronco's organization still found a cool spot for us to watch the players work their hopeful magic.  No autographs this year either but that didn't dampen the fun of it all as the field was decked out in all that orange and blue.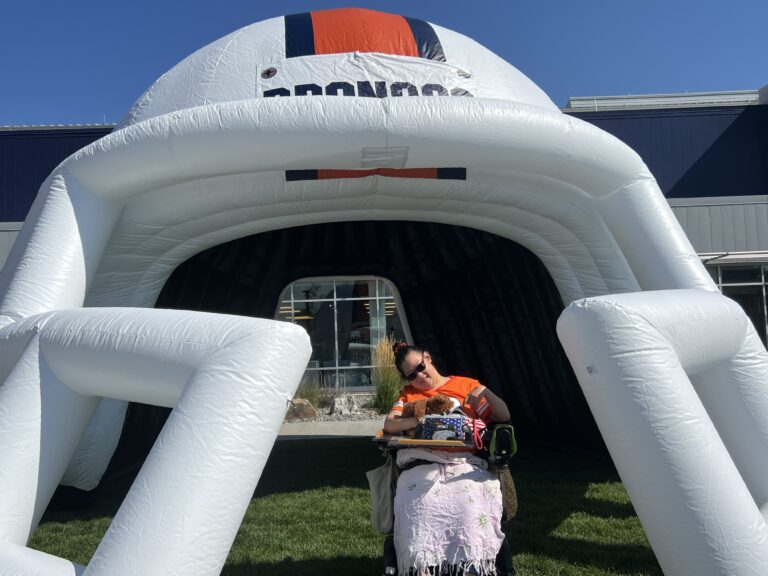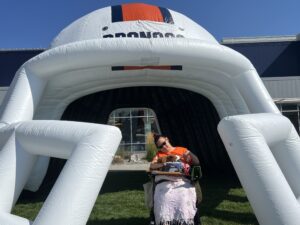 Everything Mikelle owns has some orange and blue attached to it.  The case for her cell phone, decals on her wheelchair, her Bronco blankets, her purse and if you walked into her room you would see wall-to-wall Bronco players and mascots.  It is quite the sight!
Training camp is a tradition that continues in this changing world.  Win or lose, Mikelle will always be a Denver Broncos fan.