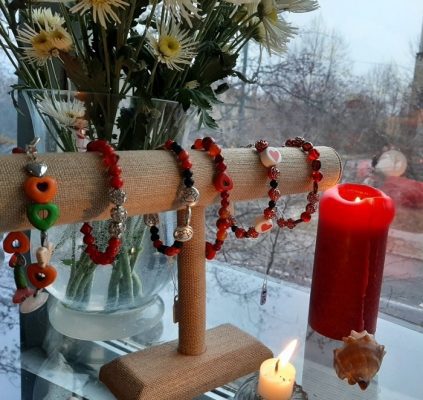 While Mikelle was in high school, she loved the award shows featuring movie stars and their beautiful dresses. One day, while watching the Academy Awards, she grabbed a paper and pencil, placing it on her wheelchair tray and brought it to me. Mikelle pointed to the television, then pointed to paper and pencil. She wanted me to draw the different gowns she saw. After all, prom was around the corner. Later in the week, she went through the magazine aisle at the grocery store, grabbed a Pe a celebrity entertainment magazine to scour over all the fabulous dresses.
We ended up designing her prom dress. Her grandmother sewed it for, and Mikelle's interest in design was born.
Bracelets seemed the most logical place to start her fashion-oriented journey. They are small, portable, and she can lay out her design, and her team can assemble the bracelets for her.
Her customers love her bracelets, and she loves selling them. Each bracelet holds power for all it's wearers to shine beautiful, like Mikelle.