Tradition
Every year is different, yet the same during the holidays. Tradition abounds at the Shining Beautiful household. So Mikelle's annual holiday party is not to be missed. Except for last year when holiday parties took a COVID hiatus. Even this year, the darn virus threatens to disrupt as the Omicron mutation grows.
But, thrice boosted, we took the chance in our well-ventilated condo that we were still early into this round of the pandemic. We were right. No one became ill. Whew. Cause we had a wonderful time celebrating friendships and family on this candlelit night of fun.
Community
Our community gratefully gathered. No longer was the air filled with the sharp notes of political banter decrying division, worry, and missteps, but the sound of champagne bubbles of laughter wafting through the kitchen and living room. Mikelle's dazzling smile shows off her new teeth–three years in the making!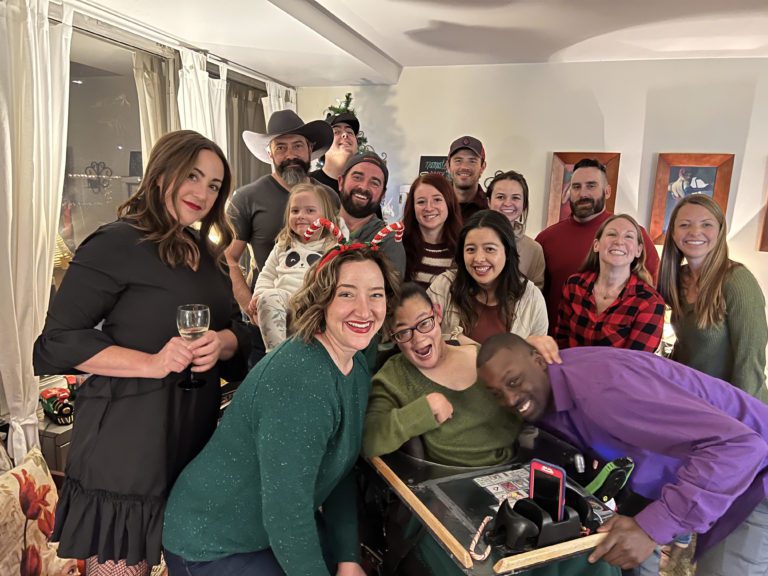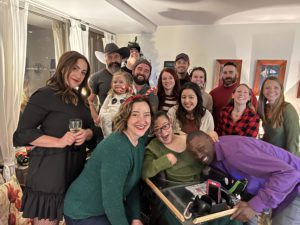 All her guests are taken back as Mikelle looks a bit sexy as she bares a shoulder with a new green sweater. She grows more confident each day with her new pearly whites. She is simply beautiful.
One by one, our guests leave the complicated world behind them and enter into an intimate, even sacred space filled with the smell of love and hot chocolate. The warmth of friendship mingles with the scent of  Italian meatballs, charcuterie bar, breadsticks, red wine, and fresh apple tarts as we invite our guests into a lovely celebration.
Our beer drinkers reach (mostly the guys) for a cold local brew. Others fill their wine glasses, but only after a long, never-let-you-go hug from Mikelle, a slap on the back from an old friend, or the sweet embrace of friends missing friends. Mikelle has perfected her hostess abilities, ensuring each guest sees her pop-up bracelet market and enjoys a holiday treat. Her squeals can be heard over the conversation as she grabs the money and makes a sale—the Shining Beautiful Community assembling for the fifteenth-holiday party.
While the Christmas holidays focus on gift-giving, pine trees, gingerbread cookies, family, and friends, it is clear that the angel at the top of our tree is Mikelle.
Old Friends
Mikelle is the reason we gather year after year. Ian, one of Mikelle's friends she met after graduation when he worked as a barista at Starbucks, formulated Mikelle's after-high school transition plan with me.
Now in his forties, he works for the city morgue, which he likes and is married, and has a five-year-old daughter, Keaton, who wants me to teach her the Tango. Next to Ian sits Jerome, another old friend who has stayed in Mikelle's life since they met in high school. They share a laugh, drink, football chat, and a few memories.
Taylor slides up to Mikelle, puts her arm around her small shoulders. They share a look. They are sisters, too. Taylor moved in with shoulder-length brown hair and walked out with a few tattoos and a bleach-blonde Mohawk and now is married and is working in human resources for a large aerospace corporation. 
I think of the quiet interlude during the night; I look over at Mikelle as a soft sigh escapes from her lips, her shoulders relax, she smiles satisfied, her gift of friendship received by all.
Love and respect. Action and Persistence. Belief and Miracles. Ingredients for making the world a better place.