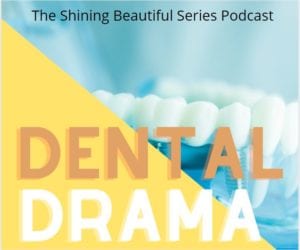 After two years and 3 decades, Mikelle and I might be at the end of our dental drama. One by one, tooth by tooth, Mikelle's beautiful smile still shined now with gaps in her smile. First on the bottom, then on the top.
Over the years, we struggled to find the right dentist going to dental clinics where dentist turnover like calendar pages, and we never saw the same dentist twice. Each one had a different way of treating her. To complicate matters, Mikelle's already weakened enamel was made even more vulnerable by the fact she seemed allergic to something in fluoride toothpaste. Every time she used it, her ears would turn red and swell, or she'd develop a rash on her legs or on her stomach.
We tried a private dentist and spent thousands of dollars only to watch her teeth continue to fail. He told us they would, and he was right.
We tried a different dental clinic and were hopeful. Long surgeries in the operating room under general anesthesia left more gaps and a plan for getting Mikelle's smile filled in. That is until the dentists turned over again. The clinic, overwhelmed, began to say they were working on a plan, but we failed to hear back. 
Calls were never returned, and the smile became more jagged.
One night watching TV, I saw the commercial. New teeth in one visit. "What if?" I ask myself and Mikelle. I researched the option feeling it was our last chance for filling in that beautiful smile. I called a few places that offer implants and found one I felt comfortable enough to set up a consultation appointment.
Unlike the clinic settings, the implant office was well appointed and large—refreshments in the lobby, carpet, and a beautiful view of the Rocky Mountain range west of Denver. First up was a meeting with a lovely sales representative who explained the procedure and the cost. Yikes!
Meeting with the oral surgeon was the next step to determine if Mikelle was a good candidate for full set implants. Indeed, it looked like she was an excellent candidate. The surgeon and prosthodontist concurred the surgery could be done in the office. Now, finding the money.
I thought about getting a loan. I remember sitting in the car on a side street talking to my son, Kasey, about borrowing money to pay for her teeth. "Mom," he said. "Are you sure you want to do that?"
I thought I'd do about anything to get her teeth back. Fortunately, I had learned over the years to ask everyone I knew where I might find resources that would help. I did find them in the Denver Mill Levy. A few emails and phone calls later, a letter is written, and an extended await a response, and we were approved.
In August of 2019, Mikelle and I arrived at the office full of hope that she would have a new set of teeth at the end of the day. I settled her into the dental chair, stayed with her until she fell asleep from the IV sedation, and settled into a comfortable chair in the waiting room. In less than an hour, the surgeon came out and said there would be no teeth today.
Things got a little complicated.
Mikelle was fine, but she scared them. It would be another fourteen months before the surgery was performed—this time in a hospital operating room. After four hours, ten implants later, Mikelle emerged with a groggy smile. What a trooper.
Recovery has gone well. Mikelle has an appointment set in December to get her first new teeth.
She is more than ready. And, so am I.
Dental care for people with disabilities continues to be a struggle. Many dentists now see people with disabilities, and if dental care is routine, it works reasonably well. In Colorado, primary dental care is now covered for people on Medicaid.
It is still a challenge for those who have complications either with their disability or their teeth to obtain appropriate dental care.
For now, it looks like we are reaching the end of our dental drama. Cross your fingers.