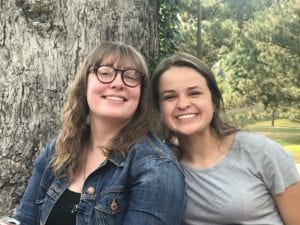 We at the Shining Beautiful Series are rethinking our entire way of providing support for Mikelle to define a new and vibrant rhythm to life in a world that changes daily.
Over the years, we have engineered, refined, and established a remarkable way of supporting Mikelle, effectively maximizing her self-determination and control over her life. As my me, her mom, I was beginning to think about my retirement in a few years as my role was becoming more narrowly focused on helping Mikelle with her business and managing her finances. The ladies took care of laundry, health maintenance, errands, and even social engagements.
COVID came along and threw a wrench in our well-oiled system.
Lockdown slammed the door shut on community inclusion, put restrictions on the team members' social engagements like it did for most of us, and what we thought would be a few short months clearly is extending into an unforeseeable future.
For the first time, Mikelle and I don't see the community as safe or accessible right now, preferring to be as Colorado's Governor Polis's declares, "Safer at Home."
COVID has not stopped life from changing for members of our team.  Taylor got engaged and Mo, our most senior Add to the mix one of most senior team members, Mo, left us late July as the Navy called her back into service, triggering a shuffling of responsibilities and team leadership.
Typically, we have paid one Mikelle's team members more to take on the tasks including scheduling, managing grocery lists, and some supplies.
In effect, this position was a "mini-me" job filling in when I was unavailable. Taylor was the first to assume additional responsivities, and Mo took over when Taylor went full time at Ball Aerospace. Mo announced to the team while all of the team members sat together in Mikelle's living room as they sipped ice water and ate pizza on a hot mid-July evening.
Her voice quivered. "Hey, ladies. There have been a few changes in my life. I am leaving in a few weeks. This meeting is to talk about my replacement.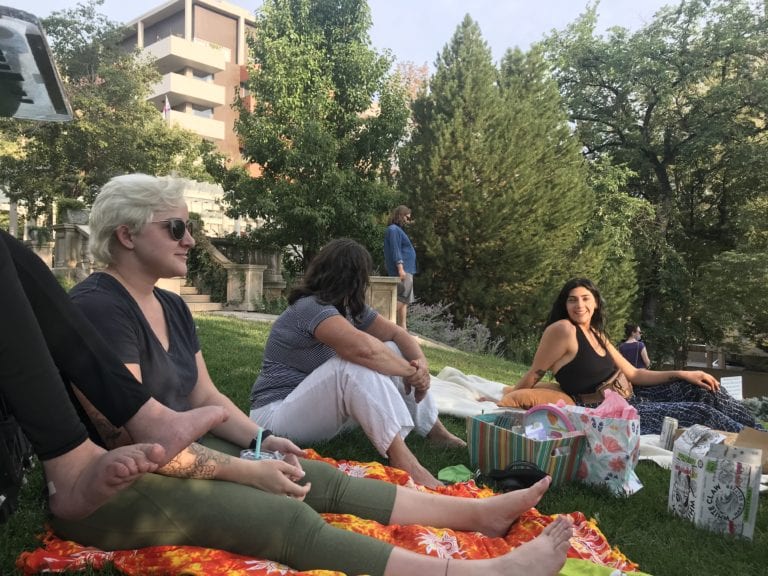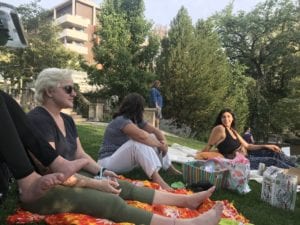 Mo and I assumed at least one of the ladies wanted her position, but were unclear as to who might express an interest. When three out of the five ladies expressed an interest, it gave us an opportunity to rethink the plan to fill MO's soon to be vacant position.
The timing was perfect as we had begun to consider what life might be like in the fall during COVID. Like many organizations, including business, healthcare, and schools, we find ourselves re-examining everything, including Mikelle's goals for active community participation during this unsafe time including the essential job responsibilities to support living in such an unpredictable time.
Mikelle and I spoke with each of the three women interested in the position. Each candidate had their own merits, strengths, and abilities to bring to the job. Each wanted the job and was willing to strive for it.
The thought occurred to Mikelle and me, "Maybe we should give all three new jobs?"  We asked each of the ladies to write their own job descriptions detailing tasks that differed from the job they had already been doing.
One team member focused on organization and scheduling, filling most of Taylor's and Mo's responsibilities in their positions. Another detailed her focus was supporting Mikelle as an entrepreneur extending my efforts by helping her connect to other artists and up her brand and her other responsibilities. The third member, who is exceptionally social, determined her job was to replace Mikelle social dependence on coffee shops to expanding safe social activities and finding replacements for Mikelle's interest in live music, shopping, and running errands.
Further discussions ensued. Monthly goals were discussed, a few more details were requested. As a result, Mikelle and I decided to give each of three interested in more responsibilities a raise with the option of a bonus for "opportunity creation" activities. These are things that make us go "Wow" we didn't think of that!
The raise went into effect in the middle of this month. We had a going-away party for Mo, Liz has picked up most of her hours. MaryAnn has completed the schedule for September and is working on supplies for the fall, as we will stock up on essentials, not knowing what is coming.
Salena is finding a photographer to take professional pictures of Mikelle and her jewelry for posting on her Etsy shop.
Liz is scheduling a guitar concert for Mikelle at the park, arranging a bracelet show for her roommates and a few friends, and working on a Tick Tok video to promote Mikelle's business.
All the ladies are helping Mikelle work on her iPad and other technology daily.
We have moved from primary caregiving to problem-solving and are on to opportunity creators. In short, we have done a little discovery and job carving—two of the pillars to customized employment.
Still curious? Listen to these podcast episodes where you can hear what the ladies are saying about the process of rethinking, reimagining for a more resilient support system for Mikelle. (If you haven't noticed, a succession plan for me is taking root.) Like many, we are just guessing what the future holds as we prepare to exit one of the most turbulent years we have ever experienced. 2020 has pulled us all out one reality and slammed us into chaos.
Fortunately, chaos is a creative time that can lead to a new sense of order.