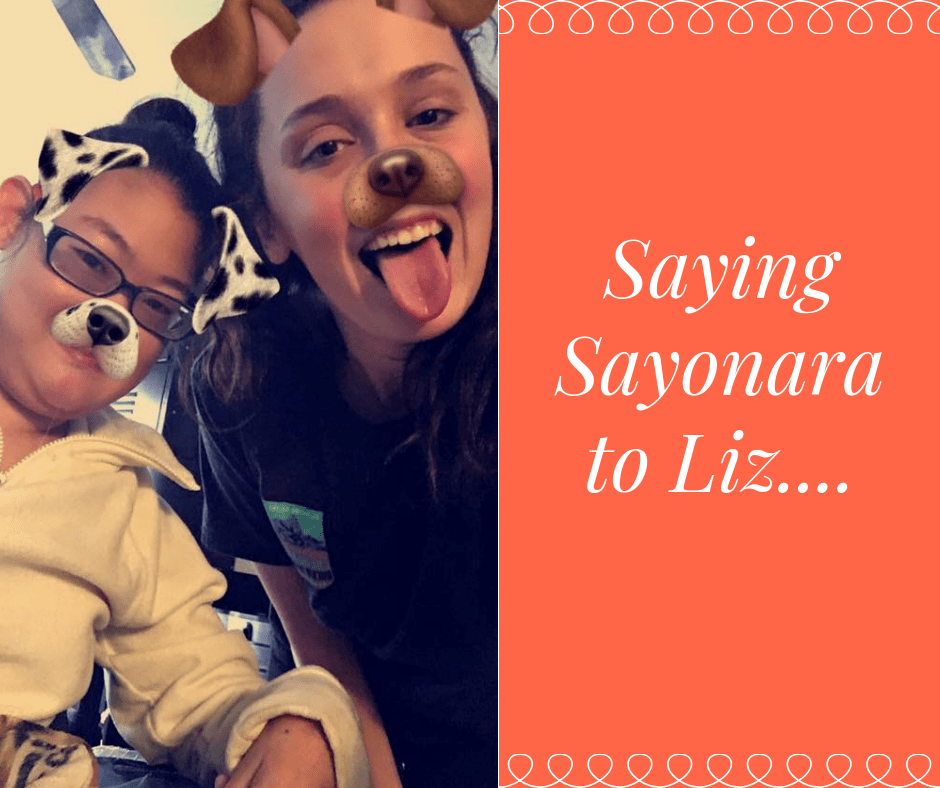 Saying Goodbye to Liz…

By Taylor Mason, Shining Beautiful Team Member
When you work with an individual as unique as Mikelle Learned as long as I have (six years, yikes!) you come to learn some very important things about the other employees in your team.
Taking care of Mikelle day to day certainly requires a team, a strong one, too. The first thing you learn is how to see if a person is going to make the cut for long term employment. Are they going to be a good fit with Mikelle? Are they going to be a good fit with the team?
Usually, within the first few weeks of training, you can easily suss out who will make it and who will not. When we hired Liz in the summer of 2016 it was apparent early on that she was going to not only be a long term team member but a part of Mikelle's family. Her seemingly endless abundance of energy and joy for life quickly filled a space in Mikelle's home and her life that we didn't know was lacking.
Throughout Liz's three years with the Shining Beautiful team, she spent holidays and birthdays with Mikelle, worked on presentations, helped her set up an Instagram account and spent many an afternoon with her at coffee shops across the state. Of course, it's hard to list all the wonderful things Liz was a part of with Mikelle but most importantly is the relationship they built together. She quickly became a sister-from-another-mister to Mikelle.
A rock in all sorts of weather, upon which Mikelle could always count on. This past May we had to say goodbye (for now) to Liz, as she moved to Oregon to be closer to family and to start a new and exciting journey in her life! The bonds of sisterhood cannot be broken, though, and she will remain a part of the Shining Beautiful family despite her time and distance apart.
I asked Liz what her favorite memory with Mikelle was and she had this to say, "My favorite memory with Mikelle, oh boy, this is a hard one. I'd have to say spending Christmas with her! It turned into one of my favorite traditions while working with Mikelle. Opening gifts, playing cards with the family, and just enjoying each other's company. Also seeing how happy Mikelle is when she's around family is such a warm feeling."
Among Mikelle's long-lasting team members, I have also spent several holidays with Mikelle and her family and I can confirm that there's always a welcoming and joyful feeling about participating in these family events. I can say with confidence that the family will miss having you with them for these holidays, Liz!
My next question for Liz was 'Do you have any advice for future employees about working with Mikelle?' Her response was, "[My} advice to any new employee would be patient and don't be afraid to get out of your comfort zone! Mikelle is not afraid to push the limits and she loves it when I would join her on it. It definitely would take me out of my comfort zone at times but seeing how it would strengthen our bond made it so worth it. And of course we all gotta have patience with Mikelle when it comes to communicating if she's having a rough day, and really just in general! Most of the time I found myself trying to have patience with my own self rather than Mikelle."
Truer words have never been spoken! Great advice from a great person.
So it is with a heavy heart that I post this goodbye blog about our dear friend Liz. Mikelle loves you, misses you, and asks about you constantly! We look forward to your visits, our Facetime calls, and hope one day that we can visit you in Oregon! Lots of love and best of luck to you from all of us in the Shining Beautiful team!
To our readers, I hope that you were able to get a little glimpse into the ever-changing flow of our work with Mikelle and how our team members are not only valued employees but often times become like family to us. We are always looking for new friends to come and work with us, and we hope you too get to experience the kind of special bonds we have with people like Liz! Here is a link to our Shining Beautiful Series Podcast episode featuring Liz and Mikelle. https://theshiningbeautifulseries.libsyn.com/saying-goodbye-to-liz-turnover-sucks
For today we say, keep Shining Beautiful!