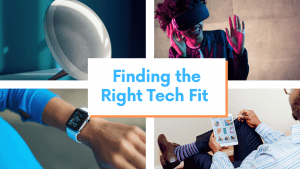 Hello! Have you heard? The Shining Beautiful Series has a new podcast featuring technology and everyday life.
Every Tuesday we post a new episode with every other week focusing on how we utilize technology in Mikelle's life. Details. Details. They matter and we dig deep on the myriad of challenges which face us in finding the right fit in technology.
For a person with a disability, finding the right technology is not an "off the rack experience." Each AT user has unique needs and abilities requiring a tailored approach and customized fit. As we shop for the best fitting technology we need to consider the need technology will address, the person's desire for functionality and what appeals to their aesthetic sense.
Regrettably, families are often guided to a "one size fits all" device with little instruction on how to customize the device to meet their family member's needs leading to an ill-fitting device which spends more time on the shelf than in use.
Mikelle and I know from experience. We tried numerous devices over the years. Six months ago, Mikelle apparently had outgrown aspects of her technology. She was bored with the same old—same old iPad.
Gretchen Storm, Mikelle's AT support professional and I began our "does it fit" style session. A personal style profile (PSP) was developed and we adapted her Individual Technology Plan (ITP).
Mikelle needed greater levels of independence and we used that desire the foundation for her plan. We examined devices and apps offering her opportunities to direct her own care and manage her environment.
Attending the Families at the Forefront of Technology Conference was akin to a shopping spree for Mikelle. The conference offered up a runway of new ideas to consider as we imagine new approaches to help Mikelle obtain a greater level of independence.
Where Should You Start?
Like with fashion; look for form, function, and style.
Mikelle wanted comfort and ease of use preferring an iPad over her other device the ECO. (Note: However, Mikelle's friend enjoys writing and prefers to use her ECO at home and her iPad when she is out socially.)
Keeping track of her day, scheduling her team and providing on-going training was of paramount interest to Mikelle.
For example:
1. Mikelle wanted control of her activities choosing her activities, not having her support team direct her day or worse, yet….her mom decides what her day looks like.
2. Reminders of upcoming events are important to Mikelle and she loved to check off her list as done as the rest of us!
3. Mikelle takes self-determination seriously. She wanted technology to assist her in interviewing and training members of her support team.
Gretchen helped Mikelle to select two apps in addition to her Words for Life app. Mikelle decided on Pictello and Visual Schedule Planner.
Mikelle and Gretchen started Starting with Pictello, Mikelle's excitement grew. Soon, she was taking charge in ways we had not seen before.
1. She began to direct areas she wanted to focus on.
2. Once empowered, she started taking her own photos, putting her own text and directions into the app. Soon she was doing her own programming by adding her own icons into the Words for Life app. Wait for it…her first icon was the "coffee" icon.
3. Mikelle's sense of pride and ownership continued to flourish when we then added the second app; Visual Schedule Planner.
We discovered the Visual Schedule Planner at the 2nd Annual Families at the Forefront of Technology Convention from Brooke Olson's presentation. Brooke is the founder of iTaalk.org, (Interactive Technology Assisting Little Kids) and has been chosen as one of the top innovators in the field of Autism.
Previously, Mikelle used a regular paper calendar to schedule her team, frequently grabbing it off the kitchen table to check which member of her team was coming next. It worked but was a bit cumbersome.
Mikelle uses the When I Work app together with Visual Schedule Planner. We have seen some interesting changes in working with Mikelle's newest technology. Interestingly enough, Mikelle is less anxious and more focused as she directs her team each day.
Here are some resources for you to check out.
The shopping mall for AT devices can be found at your statewide Assistive Technology Project. https://www.resnaprojects.org/nattap/activities/deviceloans.html In Colorado, you may contact the Assistive Technology Partners device loan program to check out various devices.
The local Apple Store in your area is an additional resource. The genius folks at Apple are quite knowledgeable about accessibility features and apps. For those who live in rural areas, visit the Apple Accessibility site.
For more personal attention, contact Gretchen Storm, Speech Therapy of the Rocky Mountains, LLC (S.T.O.R.M.) or Jill Tullman with ACC-Therapy and Associates.
Technology can improve a person who experiences special needs if it is the right fit.
Forget the "one size fits all" approach and see what tailored technology feels and looks like!