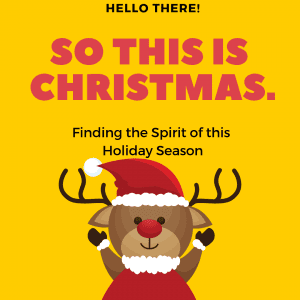 The ornaments are up on the tree, the garland glitters, and the string of lights twinkle like stars in the night. A mound of wrapping paper is stacked next to gifts not yet wrapped. The sacred holiday nears.
Packages arrive on doorsteps with the wish that not a single porch pirate dare steal the joy of Christmas giving.
To-do lists and unexpected "have-to-do's" threatened to thieve our precious hopes of holiday joy and peace. These time bandits pilfer our energy and if not careful, the holiday season becomes something to survive.
You might relate. As a family with some extra responsibilities and needs, this can be even more challenging. For me, it means helping Mikelle spend her holidays with family and friends who live in homes with stairs.
She and I will gather at my son, Kasey's house for Christmas Eve dinner enjoying a prime rib dinner, mashed potatoes, and grilled asparagus. Wine glasses will clink, Christmas music will play, and we wouldn't miss it for the world.
The next day, we'll head off for Christmas morning to my childhood home, where my eighty-nine-year-old mother hosts a Christmas breakfast serving her famous lemon cream filled rolls, eggs with green chili and cheese and we sip neverending cups of coffee. As the day progresses, we will munch on homemade fudge and play cards until we dine later that afternoon on a traditional turkey dinner followed by pecan pie and more coffee.
Sounds ideal, right? Except for those stairs.
Mikelle's power wheelchair must stay home along with her independence. The manual chair is more work for me. Not only do I need to push her I must carry the gifts from the second-floor condo across the parking lot to our van, but the trip also made more difficult if it snows.
Then, there are the tiny powder rooms which are small and awkward for someone who needs assistance.
There are times when the holidays are just exhausting. Right?
I can't change where my family lives, but I can shift my focus. I can set boundaries, ask for help and focus on the spirit of the season.
I can remember when I returned from Phoenix two weeks ago, I opened the door and saw an already decorated Christmas tree that Mikelle and Taylor put up while I was gone. I can remember last Monday when Mikelle and I hosted our annual Christmas party for all her beautiful friends, and past roommates and team members was in danger of falling apart when I was delayed helping my mother at her doctor's appointment and was stuck in traffic. Mikelle and her team, Liz and Ellie, set up the table, prepared the appetizers, and I called DoorDash, a meal delivery app, to deliver food for the evening.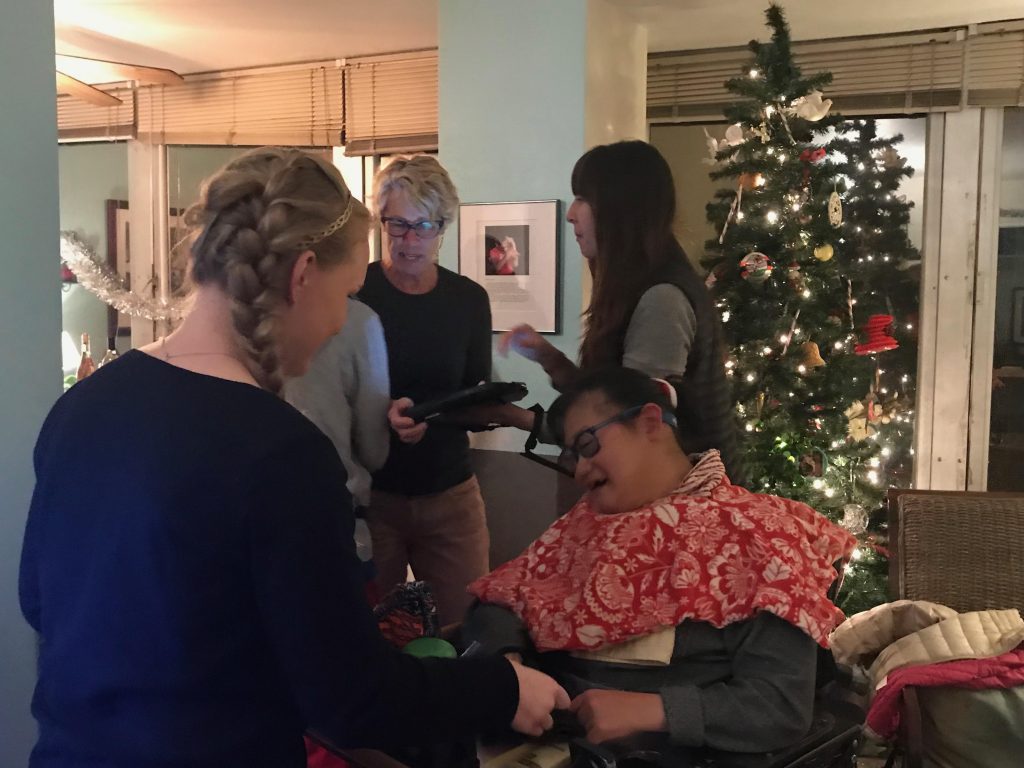 Our guests began arriving and I was late to our own party. And, yet, the spirit warmly surrounded us as we all gathered around the kitchen table sipping a little wine, drinking a little beer and eating to our contentment. The spirit of the season and the heart of our community lives through the chaos of the holidays.
Our friends, Lauren and Steve, arrived with their baby, Adelyn, a real miracle baby considering during Lauren's pregnancy she underwent chemotherapy for aggressive breast cancer and is blessedly now cancer free.
I forget the traffic, the rush to get home and celebrate our latest team member Monique; a former Navy seaman and current nursing student as she is welcomed like family into our Shining Beautiful community. I observe the friendship, now fifteen years old, with Mikelle's high school friend, Jerome. I cherish the fact, Ian, the co-architect of Mikelle's transition plan and former barista, still comes to celebrate with us even though he has a family waiting for him at home.
Holidays can be grueling in their festivity. I want to share a few more ideas of seasonal simplicity I learned today at my tenth annual writing group holiday party.
I treasure the six loyal years of care and support Taylor has given to both Mikelle and me. I can laugh when Kari, Mikelle's first roommate, shows up with her annual "Firefighter and Puppies" calendar for Mikelle. I can hear her delighted squealing like jingle bells ringing. Smiles and laughter deck the halls of our home.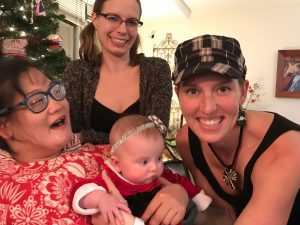 Instead of stocking stuffers, love letters. Taking the time to say what you love about your family is often more meaningful than any other gift.
When one family couldn't put up an expensive tree, they made a miniature fairyland Christmas which ended up being more significant than any elaborate tree decoration for their eleven-year-old granddaughter.
For one writer, her treasured memory was of Aunt Myrtle helping the children make mascarpone ornaments, which the children later snuck off the tree to eat.
Our host, now in her seventies, shared the pleasant memory of playing dress up with her Aunt Inez in their New Orleans's home.
Tis' the season to shine beautiful and relish the simple moments of the holiday season. Don't let the to-do list steal the spirit of your holiday season. (And, enjoy the unexpected gift a moment of peace and quiet whenever possible!)
Merry Christmas.