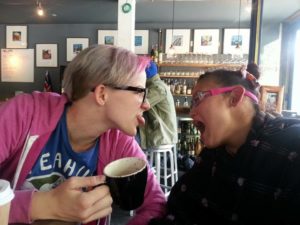 Brilliant oranges and golds break the gray morning sky, I settle down onto the well worn beige couch. I am waiting, like most mornings, for Mikelle to call out for me. For her to signal she is awake and ready to start the day. Many days she lays awake waiting for the doorknob to turn as I enter the dark apartment, around 6:30 AM. Occasionally she sleeps past 7:00. Today is one of those days.
All is quiet this morning, the usu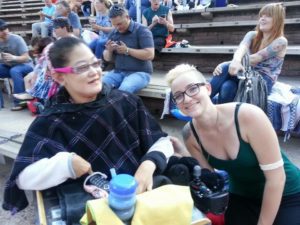 al hustle and bustle of traffic on 8th avenue is faded and dull compared to the brilliance of a Colorado sunrise. A holiday song sung on New Year's Eve echoes through my mind. A poem about old friends in lyrical verse. I hum it to myself as I hear Mikelle's sleepy call to rise.
My time here with Mikelle is drawing to an end more quickly than I'd imagined and it's cause for some reflection.
Should auld acquaintance be forgot,
And never brought to mind?
Should auld acquaintance be forgot,
And auld lang syne.
For five years we've had a steady routine. I get her up in the morning or put her to bed at night and spend whole days together. In five years we have shared laughs, shared adventures, shared tears, and shared fears. I never thought I'd have a friend like Mikelle and now I can't imagine my life without her. We've developed a relationship, not unlike sisters over these years.
We get on each other's nerves, we share purses, we talk about boys, and we love each other unconditionally. If I'd had the pleasure of having a sister growing up, I think I couldn't do better than one like MIkelle.
This job, which I took on the spur of the moment from an ad on Craigslist five Februarys ago, has helped mold and defined who I am as an adult. I don't know where I would be today without the strong women of the Shining Beautiful home.
Five years with anyone will change you, and it has certainly changed me for the better. I found my passion for caregiving here; I met the love of my life here, I grew into a confident woman here. This small home which was only ever meant to be a passing job for six months or so has become a permanent fixture in my life. Mikelle and Katherine are my family, and I will dearly miss seeing them almost every day.
It will be a good change, though. I am moving on with my career and my future by returning to school full time to seek a medical degree. My boyfriend, Jay, and I are looking for a house to buy and though it is bittersweet, it is exciting as well. It's also harder to explain to Mikelle.
Where I see opportunity, Mikelle experiences change. Someone who she has shared her life with and depended on for years is leaving her. While I know that I will always come back to Mikelle for coffee dates, birthdays, and holidays, she is correct in a way. I won't be her constant anymore, and that's a little scary for both of us.
I'm leaving her in good hands. Her mom, Katherine, is of course still here, a pillar of strength and love. A woman who's been more like a mentor, a confidante, and a friend to me than a boss.
I've also had the advantage of helping train all of her current helpers. They are good, strong young women and they will care for Mikelle at their very best. Still… they aren't me.
They all have their way of doing things, and they will each bring something unique to Mikelle's life, of that I am sure. It won't fill the hole I am leaving but instead create new and wonderful space in her heart. She'll always have a special place in mine, after all.
I still worry because it's my nature to do so. I am so lucky to have had the support of Mikelle and Katherine these years. They are family to me. I hope that the new people that come into their lives after I leave can fully appreciate what a gift these women are.
I continue to remind myself that Mikelle had a whole life before I showed up, roommates and friends and experiences that I will never know as she's nearly ten years my senior. She will go on as she always has, forging new relationships and opening more hearts to her beautiful way of life. She is strong, and so I will be too.
Should auld acquaintance be forgot,
And never brought to mind?
Should auld acquaintance be forgot,
And auld lang syne.
So this year, I encourage all of you to think about those who have loved and supported you over recent years. Maybe it is a friend or family member that comes to mind.
Take some time this year to show your appreciation with a hug and a kind word. Remember that this world can Shine Beautifully so long as we treat each other with love and respect. It costs nothing to be supportive of each other. And as far as resolutions go, treasuring our companions is an easy one to keep.
Lastly, I'd like to say one more thank you to all of the people involved in Shining Beautiful. Katherine, Kasey, Alison, Jack, Liz, Danika, Desi, Megan, Gretchen, and Kim. You are all wonderful people, and I am so proud to know you all!
2018 will be a great year all thanks to you strong, hardworking, loving people. Most especially because of you, Mikelle. I love you, girlie.
~Happy 2018!~