By Taylor Mason and Katherine Carol
As the weather begins to turn wintry and the days grow shorter and darker, we prepare for the changing of the seasons. We are also preparing for a changing of our team. It is always hard to say goodbye to our girls when it is time for them to move on. It never gets easier or happier, though some goodbyes are harder than others.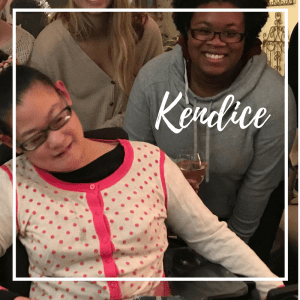 This one will not be an easy one by any means. Kendice has been a part of the Shining Beautiful team for nearly two years. Though she is moving upward and onward with her career, we will miss her vibrant and steadfast energy in our home. Kendice has been an asset to our team in many ways, and Mikele will miss most their long drives, many shopping trips, movies in the park and their many trips to the mountains together.
Taylor will miss Kendice's dependability and flexibility with our schedule. Kendice's reliability was unquestioned. Taylor never worried about the quality of Mikelle's care when Kendice was working. I am going to miss Kendice's singing, her sense of humor, and her genuine care for Mikelle. When Kendice reaches for Mikelle's shoulder, looks in her eyes and says, "How are you today, my love?" I smile.
The truth is Kendice found a great new job, it fits perfectly into her career plan and while we are happy for her new find it is a loss for us. Kendice is a highly valued member of our team, and it is with a heavy heart we say goodbye to Kendice W.
We love you Kendice, and we wish you the very best in any and all endeavors!!