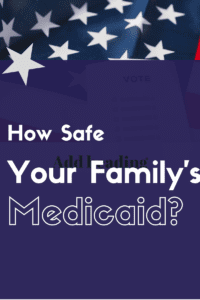 On March 6, 2017, Congress removed the "Repeal and Replace Obamacare" from it's locked down secret location and revealed to the world the GOP plan for healthcare. The announcement has many of us scratching our heads wondering if Medicaid services as we have come to know them will change. The answer is still unclear.
What we do know is Congress is swiftly moving on a new agenda and some say Medicaid will be changed, possibly moving towards Block Grants. Word on the street is that this could mean a 50% cut in services for Medicaid recipients in Colorado.
I do not know your journey as a special needs parent, but I am familiar with the steps you take. My guess is that for most of you Medicaid is the life blood of your family's support system for your special needs child.
And, I know with the scratch point of a pen on a hallowed white document all you have come to know here in Colorado may disappear.
This pen stuck swiftly in the limestone dome of the state of Texas capital building under a low December sun, Texas legislators signed away important therapies critical for young developing bodies begging for physical and occupational therapies. These cuts harken back to a day when bodies twisted with unkind contractions, bereft of tender hands, no purposeful hands to straighten and stretch muscles that would free children to walk, to sit and to grasp the liberty of movement in their developing bodies.
With the harsh rhythms of pens moving roughly and determinedly across pages, Medicaid benefits were cut by 50% within weeks of the ink drying in Texas. Cementing an uncertain future for families like yours.
Here is what you need to know:
Medicaid is deeply intertwined with the Affordable Care Act (ACA). Colorado along with 30 other states expanded state Medicaid programs drawing down federal matching dollars.
As part of the "Repeal and Replace" efforts currently underway in Washington, DC, the GOP blueprint establishes a different direction for Medicaid and long-term services. In this current version we MAY have caught a break as Medicaid expansion states will be supported at current levels until 2020.
Colorado potentially could see a fifty percent cut in Medicaid programs if Congress moves to implement block grant funding for Medicaid. Block granting allows states more flexibility in how Medicaid funds are utilized. However, these funds would be limited and most likely reduced.
Like Texas, some states might see this as an opportunity to move to a managed care model and capitated rates which limit allocations for individuals, often having nothing to do with individuals' needs.
As with any new program rollout, confusion has abounded in Texas, critical services have been delayed, caught up in bureaucratic limbo leaving families struggling with the dilemma of how to care for their children.
I remember a time without Medicaid. I was a single working mother of two. For the first eleven years of Mikelle's young life, we received no Medicaid and our medical insurance refused to pay for any costs relating to her disability. However, Mikelle never went without what she needed to progress in her life. She had a mom who was powerful in her fundraising efforts to pay for wheelchairs, communication devices, and therapies. While many good things came from continual fundraising, it was exhausting.
Today, I appeal to your survival instincts, I ask you to awaken your quiet voices for it is time to March for Medicaid.
Call your legislators today, tomorrow and the next day. Call until we know our young children, our school age children, and our adult children have the Medicaid services they deserve.
For those of you who have been calling, your voices have made a difference. Colorado's Senator Cory Gardner is on the fence about the GOP's new plan. His concern is Medicaid services. Let him know you appreciate his continued support of Colorado citizens.