The World is Singing in Perfect Harmony, at least in Mikelle's home.
Tonight, the air not filled with the sharp notes of political banter decrying division, worry, and missteps, but the sound of champagne bubbles of laughter. Mikelle's delightful joy erupts from her toes and traverses up her curved mountain road spine and punctuates through the celebration of friendship and love we seek during holiday seasons and tumultuous times.
With every new knock on the door, there is the sound of Mikelle's chair, the click, whir and the grab of nubby tires on polished cement floors as she races to greet the next guest, stopping just short of running over their toes.
Our guests leave the complicated world behind them and enter into intimate, even sacred space filled with the smell of love and chili spices floating on a brisk winter wind. Hints of hope and smoky paprika, care and cumin waft up from the simmering crockpot sitting on the granite counter top. Tensions of the day come off with coats and gloves, smiles replace furrowed brows, shoulders drop, and lungs fill with happiness.
Parmesan and kale balls stack up like a Christmas tree anchoring one corner of the high-top table that is nestled against the wall to wall windows flanking Mikelle's kitchen. Across the street, white lighted Christmas trees reach out like a forest of friends holding hands from a condo to a house and back to the tall, thin tree tucked in the corner of the living room sparkling with white lights and memories. The circle grows with each knock on the door.
Some questers reach for the chili and a cold local brew, but only after a long, never-let-you-go hug from Mikelle or a slap on the back from an old friend or the sweet embrace of friends missing friends. Over festive walnut, pomegranate and yogurt parfaits, countless bottles of wine and endless Starbucks cards for Mikelle, the Shining Beautiful Community assembled for the tenth annual holiday party.
While the Christmas holidays focus on gift giving, pine trees, gingerbread cookies, families, and friends, it is crystal clear that the angel at the top of our tree is Mikelle.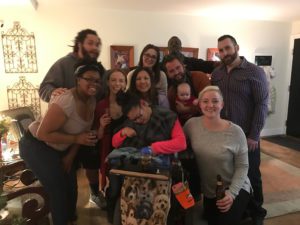 Mikelle is the reason we gather year after year. Ian, one of Mikelle's very first friends that she met after graduation when he worked as a barista at Starbucks, helped formulate Mikelle's life plan after high school. Now in his thirties, he's run for city council, is President of his neighborhood association and is married. Our newest addition to the Shining Beautiful Community is his 7-month-old daughter, Keaton, who officially could be a "Gerber" baby. Next, to Ian sits Jerome, another old friend who has stayed in Mikelle's life over the years. They share a laugh, drink, football chat and a few memories.
Our dear Kari, still youthful with her dancer's body, was Mikelle's first successful roommate back in 2006. When she arrived at the party and walked up to Mikelle, I watched Mikelle hold her breath for a slight moment; her head shook ever so slightly as if taking in a dream, then her arms shot out reaching for her soul-sister. The two held each other locked an ethereal dance of love only they knew, then the Mikelle's glee refused to be contained for another second, erupting gleefully.
Mikelle's eyes darted to faces around the room as if to say, "Look who is here!"
Others friends like Susi had studied for her Ph.D. in Civil Engineering while living with Mikelle a few years. Five times a day, Susi, between episodes of Zack and Cody and laughing about boys with Mikelle and then roommate Adriana, would don her prayer clothes, roll out her prayer rug facing West toward Mecca and thank Allah for her good fortune to live in this country and with Mikelle.
Taylor slides up to Mikelle, puts her arm around her small shoulders. They share a look. They are sisters, too. Taylor moved in with shoulder length brown hair and walked out with a few tattoos and a bleach-blonde Mohawk and a desire to work in Hospice and nursing. Taylor feels like a member of the family. She expanded the circle even more with her parents, Denise and Kevin, who are like your favorite Aunt and Uncle. Tonight, they sit in the plantation chairs next to Taylor's handsome guy, Jay, who is now also a regular part of our community. Kendice and Jordain, Liz and Connor, are newer additions to the Shining Beautiful Community. We love
Kendice and Jordain, Liz and Connor, are newer additions to the Shining Beautiful Community. We love Kendice and her quest to earn her nursing degree, Jordain's lively repartee with Mikelle and Liz's "let's go girlfriend" attitude as they go to the latest improv or comedy show where Connor is performing. There at the theater, new people are introduced to Mikelle's circle of love.
As I wash the dishes, Kara and John visit with me in the kitchen. Kara worked with Mikelle for a year as her personal support and introduced her to John. Inspired and frustrated by the recent election, John asks, "How do I get involved? I want to make a difference."
I take a deep breath, think of President Kennedy and ironically, an old Coke commercial. Hands stretch across rolling hills, people of all walks of life singing, "I want the world to sing in perfect harmony."
I think of the quiet interlude during the night; I see Mikelle a soft sigh escape from her lips, her shoulders relax, she smiles satisfied, her gift of friendship received by all.
Love and respect. Action and Persistence. Belief and Miracles. Ingredients for making the world a better place.