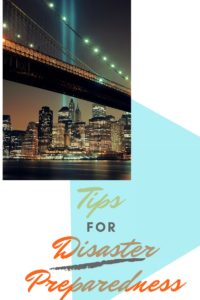 I had the phone pinned against my ear talking to a friend while making Mikelle's bed, sweeping the floor and reining in the morning chaos.  Mikelle's VCR/TV played in the background. The Today Show typically brought light morning news and entertainment more like background noise on this sunny morning. That is until Katie Couric announced a plane had crashed into the World Trade Center.
While talking to my friend,   I watched a plane devour the second World Trade Center Tower and the world changed. It was September 11, 2001 and at that moment found my inner "prepper."
My first reaction was to go to the grocery store and spend $200 and fill up our 1992 Dodge Caravan with gas while others watched events unfold.  I knew I had to make sure Mikelle and I would be alright. As I did this, I called Kasey who worked just blocks from the Trade Center as a manager of a local Starbucks. He was ok. So was his fiancé, Allison.
As we know our world has changed. September is National Disaster Preparedness month and I am encouraging you to prepare.  Mostly likely, your preparations while be much like mine these days as a natural disaster, a power outage or a long weather event is more likely where we need to put our preparation efforts.  In Colorado, it is not unusual to have a snow storm blow through leaving a couple of feet of snow.  Wheelchairs and snow don't work well together. Or, like in 2013, we experienced a 100 year flood.  Out on the plains tornados, flash floods and hail storms are the primary threats.
As special needs parents, we need to consider the extraordinary needs of our kids in extraordinary events.  This is how we prepare.  Please share your ideas.  Let's take care of each other!
My Stockpile Goods in the Home
Candles
Games
Solar Charger
Waterproof matches
Windup radio
Sanitary products (toilet paper, paper towels, sanitary napkins)
Soap
Water
Plastic Bags
Duct Tape
Wet Wipes
Medicines (including dietary supplements, painkillers, first aide supplies)
10 days of meals
Numerous flashlights and extra batteries, plus battery powered lights
In the Car
A backpack chock full of small quantities of the above. Good for three days.
Water
Can opener
Blankets and sleeping bags
Chairs
Mirrors for signaling
Extra clothes including down jacket
Emergency roadside equipment (charger, tools, etc)
Extra medicine in both backpack and glove box
Portable stove and pan
Coffee! (For Mikelle!)
Extra pair of glasses and sunglasses
On Mikelle's Wheelchair
Two sets of extra clothes
Plastic bags
Extra medicine
Towels
Rain poncho and heat retaining Mylar blanket
Scissors
Multiuse screwdriver
Stress can affect our children with a disability. Try and make this preparation fun.  Map out a varied of routes out of town and come up with fun names.
Did you know crayons can become candles?  You can open cans without can openers? You can learn lots of "prepper" strategies from the Crazy Russian Hacker…I don't think he really is Russian. But, he really is fun.
A few final notes:
Make copies of all your important papers like Social Security and Medicaid Information. Send them to relatives in other parts of the country, if you can.  Load important information in secure electronic format which can be easily accessed from another computer or smartphone.
Get to know your neighbors. Only ten percent of the population are first responders.