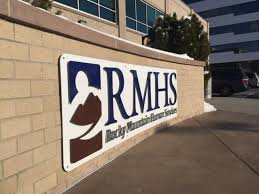 It is always strange to walk back to the future. Earlier this month, I did just that, walked back into the organization I had helped found over twenty years ago. At that time, my inspiration was inclusion for people with disabilities at the end of the 20th Century. I wanted a premier organization to help Mikelle as she transitioned from educational to adult services.
Much has changed for both Rocky Mountain Human Services (originally, Denver Options) and Mikelle and me. Inclusion still motivates me, as Mikelle and I prepare for our presentation to RMHS case managers. However, this time, the focus is on 21st Century Inclusion and the power of technology to connect, to support and empower people with disabilities within the 21st Century Community.
Today, people with disabilities experience a much higher degree of acceptance within the social fabric of our communities. Since 1990 and the passage of the Americans with Disabilities Act, curb cuts abound, restrooms are more or less accessible, and employers are more open to hiring people with disabilities. Although, I wonder how long that will continue if people with disabilities are denied access to the technology businesses use every day. I am speaking of Smart Phones, iPads, and internet access.
Case managers sit at the head of the table, right next to the individual with a disability and their family members, architecting the future at the annual support plan meeting. At the moment, support plans do not address needed technology, and we all know, if the goal was not written into the plan, the goal does not exist.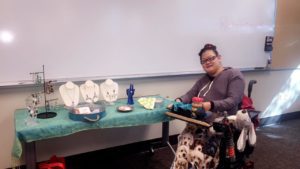 Mikelle and I were delighted to see an impressive group of case managers in attendance lead by the capable Brenda Whitlow. Becky Miller, Stake hold liaison sat in the back row sipping coffee as we set up for the presentation. Mikelle and her roommate, Michelle, set up her bracelet display on the perimeter of the room. Strategic placement is a key element to Mikelle's sales approach. Gretchen Storm, Mikelle's technology specialist, and Mikelle plan to demonstrate how Mikelle uses her iPad and apps to interview, hire and train her support team. My presentation focuses on trends in universal technology and its application and importance to 21st Century inclusion.
Back in 1995, Microsoft CEO Bill Gates penned a book titled, The Road Ahead. I read this book, and while I can't remember most of what he spoke about, I do remember his cautionary concern. Balance high tech with high touch.  
That is the theme of our presentation. Personal stories are demonstrating how technology empowers people with disabilities to live independently. Kara Brouhard uses a simple 99 cent app, Aida, which replicates the voice inside our heads telling us to get up in the morning, make the bed and when to let the dog out.
Case managers saw Amanda Boxell get out of her wheelchair and climb into a robotic, 3D printed exoskeleton and walk across a stage. And, while Bill Gates didn't speak to the group via video, his company did, as we could see Microsoft's commitment to hiring through its vendor connections people with intellectual and developmental disabilities. To date, Microsoft and their vendor partners have employed 168 people and counting in well-paid, life-changing jobs.
Mikelle and I enjoyed going back to the future. It was great to see familiar faces of dedicated professionals we knew back in the day. We celebrated their dedication and persistence while enjoying the enthusiasm of younger people getting started in human services—for they are the future, and they know the transformative power of technology as a pathway to 21st Century inclusion.