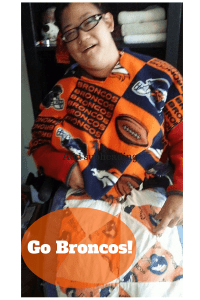 It has almost been a week since the Denver Broncos won the Super Bowl. The pros and cons of professional football are debatable. After all, the extravagance of the Super Bowl reaches the stratosphere of lavishness. We know the serious issues around injury and concussion, the ridiculous salaries and questionable taxpayer support of wealthy teams, but I am not talking about any of these questions here.
My interest is something more fundamental and tribal, our need to belong to a community.
As evidenced by a million plus fans attending the Bronco's Super Bowl victory parade, people desire to be a part of something special.
The Bronco nation or tribe embodies the power of rituals in building community and even strengthen family ties.
Let me explain.
As a young child, Mikelle grew up watching her brother, Kasey morph into an ardent Broncos fan.
Each game started with the selection of the "Good Luck" football jersey, a table full of chicken wings, chips and dip and other goodies. "Da Boys" included Mikelle in their festivities as they encouraged her participation by high-fiving her or "fist-pumping" a good play or even groaning in unison over a referee's bad call. All rituals which defined our little corner of Bronco country.
When Kasey moved to New York City, then on to Long Beach, California the love of the Broncos was often the common language shared by siblings who lived very different lives as young adults. A text, a quick call or video post connected with the close bonds of family and friends.
For Mikelle, the Bronco nation grew to include friends, Ian Harwick, Lauren and Steve Perfors and Adriana and Chris Pogar. Sunday afternoon rituals continued even on those days when it was just Mikelle and me.
When Kasey moved back to Denver with his young son, Jackson Elway and wife Allison, the Sunday ritual morphed into the game day at their house, complete with game day carnitas, rice and guacamole. The ritual continued with the "lucky" Bronco's apparel, and when the Bronco's made it to the Super Bowl, Mikelle had to go all out and show her support!
Notice the blue and orange eye-shadow, the Bronco ribbon in her hair, Bronco's poncho and lap blanket (made by a fellow Broncos fan).
Super Bowl Sunday was full of quiet tension. The Bronco nation had not fared well two years ago in Super Bowl 48. A serious underdog in Super Bowl 50, everyone was hoping "their team" would, at least, play strong this time around.
Jackson was in his winning gear. Tribes can be a superstitious lot. Same shirt, same shorts, same helmet, he was leaving nothing to chance. Kasey put on his good luck jersey and their home became an ocean of orange and blue. Kasey's and Allison's high school friend, Brian, was there with his girlfriend, just like the old days. Other fans included Allison's dad and a fellow actor from her recent Shakespeare play.
The fist pumping started with the first drive, Mikelle was wrapped up in rituals, fully included in the Bronco nation. Disability or ability didn't matter, all that mattered was team spirit!
Think how rituals can build a community for your family member with a disability. Bridal showers or mani-pedi parties, for example, are a more feminine form of rituals. They are everywhere, just look for them.
Right now, as we begin this new election cycle we can find many opportunities in this privileged ritual of democracy  for people with disabilities to join and contribute to their community. Get involved. Participate. Have some fun!