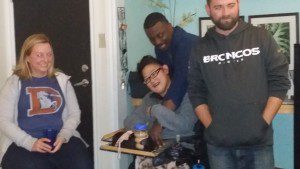 Do the gifts of community come from systems or families?
Intelligent, hardworking human services professionals discuss the need for inclusive communities and person-centered planning. I know, I have sat in numerous conference rooms over the years, I hear the concern in their voices as they acknowledge the elusive nature of creating enduring communities.  If they could provide the many gifts of community, I have no doubt they would.
And yet. Families are frequently overlooked as the key to building sustainable communities. Without family involvement I seriously doubt, despite the good intentions of our human service professionals, Mikelle's community would exist in the way it does now.
The holidays help bring into focus the importance of belonging and active community inclusion.
Look around, how will individuals with disabilities spend their holidays?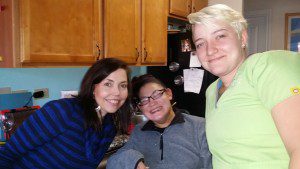 Like the rest of the world, most would prefer to spend time with families and friends celebrating love, which is really what the holiday is about, no matter the religious aspects.
Mikelle celebrated the season at her annual holiday party.  Her friends called, emailed and texted asking the date making sure they put it on the calendar for it was an event not to be missed.
Every year the party evolves encompassing an ever-widening circle of diversity bound together by friendship and family.
Our Three Gifts…
#1: Love
While the human services system can express sincere concern and even love it is unlikely to reach the levels of true friendship and deep family connection.

The truth is love is what keeps friendship growing. You can see it in Mikelle's holiday parties. Susi was a roommate in 2007, Kari, a roommate in 2006.
Ian was a college graduate and barista in 2004, eleven years later, he is married and an expectant father. Love endures.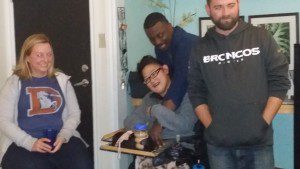 There is no substitute for the love we have for our kids (adults or children) with disabilities. Or for the passion to get through endless meetings and piles of paperwork or the sleepless nights wondering how we can always be there when we know we can't.
Without love—the love of work, the love of community, the love of family, all the policies written are facades, empty storefronts with little behind them.
Because of love, all of us in Mikelle's community refuse to settle for less than enduring excellence and loads of fun.
#2: Permission to be.
One of the highlights of Mikelle's unique ability to bring people from all over the world together in a tiny living room is her ability to be herself. By the simple notion of self-acceptance and recognition of her personal power, she opens the door to her friends and family just to be themselves around her.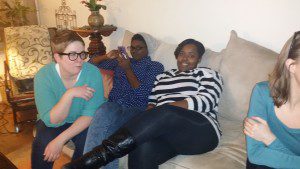 Personal facades fall, professional armor melts and people just become people. Inclusive communities are safe communities for self-expression.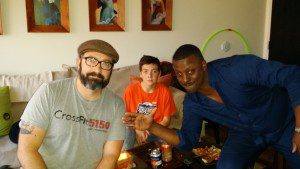 #3: Humor
You know you are in an inclusive community when people are confident enough to be humorous. Our field is rife with insecurities around funding, staffing and even policy.
We had a few new folks this year come to the party. Planning our event around a Bronco game made it easier for people to connect as they could share football opinions and statistics. Mikelle could care less about those, but she does care if her Bronco's win or not.
She went from the kitchen dishing the dirt with the girls to hanging with the boys and fist-bumping every point the team scored with her guys. Either place, laughter sparkled like the lights on Mikelle's Christmas tree.
As I sat watching our little community which continues to amaze me, I am filled with gratitude, humbled and proud to be a part of the celebration.
In truth, it takes commitment and deliberate actions to build an enduring community, but as you can see by the photos, it is a worthwhile investment.
We are always seeking ways to improve, expand and refine our supports for
Mikelle. Each year brings new gifts and new challenges.
We are excited about 2016 and hope you are too!