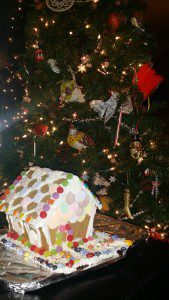 It is early December and I am already thinking about the New Year. Holiday preparations are on the to-do list. The gingerbread house needs to be baked. Think Mikelle and Kara can do that while I sit at Anne's Kitchen Table draped in a plastic table cloth with my other writer friends.
The Christmas tree will sprout out of box tomorrow afternoon in preparation for Mikelle's annual holiday party. This year's theme will be a Very Merry Bronco's holiday as we decided to bring everyone together with Bronco's and Brews. They play those "dirty Raiders", a favorite NFL rivalry. Made even more interesting now that Jack Del Rio, former Bronco's assistant coach is now the head coach of the Raiders. The black and silver are back on the winning side. The game should be interesting.
I imagine the guys taking up precious space next to the flat screen TV in Mikelle's modest living room as they drink a few beers. The ladies will start in the kitchen and snack on tasty appetizers, sip wine and chat.
However, if the game is a good one, they will gravitate to the living room. Every chair will be occupied, every space taken with just enough room for Mikelle's wheelchair to dart between the two groups until she settles in with the boys fist-bumping every winning play.
Our community continues to grow. We celebrate careers, new boyfriends and new babies. We share the laughter, comfort during the tears and live our lives feeling loved.
Life is good. Friends are great.