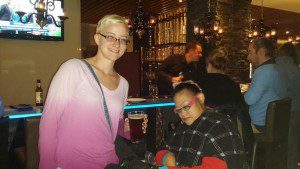 "When the cat is away the mice will play."
When Mikelle's mom, Katherine, goes out of town that can mean only one thing; Party Time! Mikelle has always loved going on adventures and hanging out with her roommates. The same is true with her current roommate Taylor.
When Momma is gone the girls like to spend their days doing all sorts of things. Typically that's when most of the clothes and purse shopping gets done as well. Mikelle prefers GoodWill, H&M, and Target while Taylor enjoys Forever 21, Target (who doesn't?), and Buffalo Exchange. Besides shopping they like to take long drives along the front range and hole up in little coffee shops for people watching and the ever-necessary cuppa joe. These ladies especially love finding a new movie to watch over and over and over again until Mikelle gets sick of it and Taylor knows all the good lines.
It's not always fun and games though. There's always laundry to be done and groceries to buy.  Of course, Mikelle loves her grocery store.
There is also the inevitable Spa Night when Taylor likes to dye her constantly changing hair and do her nails. Mikelle occasionally joins in on the hair dyeing, preferring a auburn red to Taylor's cotton candy pink. They both always like to freshen up their nail colors and of course ice cream is involved at some point in the night. These nights are the nights we reserve for jammies and girly movies that make us laugh.
Wakeup calls are always interesting in our house too. Mikelle is an early riser and likes to get going as soon as she's up. When Katherine, the other early riser in the house, is away it means that Taylor is head of the Wake Up Committee. No time is too early for our Early Bird Mikelle but Taylor generally prefers the after 7 sort of timeline.
All of these activities may seem like normal day to day activities but we like to think that every trip to the store or drive up to Boulder is new and exciting. If you keep a fresh attitude you can have a great time.