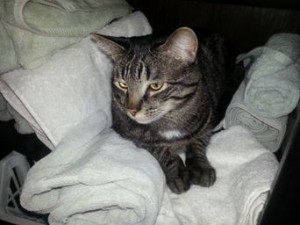 It was Mikelle's brother, Kasey, who loved cats. His seven year old hands helped rescue "Vampire," a gray hodgepodge of a kitten from beneath the pfitzer bushes standing sentry to the entrance of our home on Ponds View Place, back when we had grass, a sprawling ranch-style home with an uncertain future.
When we sold the home, Vampire went to live with Grandma and Grandpa for the rest of her long life.  Condo living, single parenting and two growing children with completely different needs did not lend itself to having any more responsibility.
That is until Kasey turned sixteen years old. Instead of a new stereo, a pair of skis, or a computer, he wanted a cat for his birthday. He chose "Jimi" named after Jimi Hendrix, a sweet female Siamese kitty from the Dumb Friends League. I wondered if Jimi would jump on Mikelle's tray and ride around with her or nap on her bed and become her constant companion. But, Mikelle had no guilt-producing moment when she rejected Jimi. Besides, she was Kasey's cat, until he moved to New York.
After Mikelle moved out into her own nearby condo, her then roommate Amy, introduced her to Duke, also known as "Duke, the wonder dog." With the same markings of a Doberman pinscher, Duke wore no aggressiveness on his dark fur.  His tricks entertained her, his willingness to reach up to her hand dangling from the arm of her wheelchair and give it a lick, warmed Mikelle's heart.  That is when we discovered Mikelle was a dog person.  Together, Amy and Mikelle took Duke on long walks, lavished loads of love on his sweet face and stroked his long floppy ears.  Mikelle soon adopted a new fleece blanket she wore over the legs warming them even in the middle of summer. Covered with brown and white puppies with soulful eyes, Mikelle wore her puppies with pride announcing to the world, I am a dog person.
Eventually, Amy moved out taking Duke, the wonder dog with her but, not without helping Mikelle pick out Duke Junior among the teddy bears and stuffed kitties at the grocery store. Over the years, Duke Junior has weathered coffee spills and herbal concoctions splattered all over his fake fur.  Where ever Mikelle goes, Duke goes as he sits in his spot tucked between her joystick and tray on her wheelchair.  Duke seems to fortify Mikelle, giving her a sense of protection and companionship therefore, getting Duke and her puppy covered blanket into the washing machine can be challenging. It is as if we strip her naked of her comforts. While Duke and the puppies get a bath, her dark brown eyes take up residence on the green numbers on the stove clock.  She calculates the time necessary for their cleaning, points to her wrist like she was wearing a wristwatch, and reminds either Taylor or me, it is time to get the laundry. No distractions allowed. Bring Duke and the puppies back, now.
Three years ago, when I moved in, I brought three cats with me.  None of them were mine.  Jimi had realized the end of her long life, but not before Ian, our longtime friend, asked me to take care of Lilly, a pure black kitty who resembled a "Felix the Cat" walk clock, after he broke up with his girlfriend. He promised it would be just a few months, just until he found a place and settled down.  The weeks turned into months, then years.
My sister, Patty, left Montana for a park ranger job in Glacier Bay, Alaska living in temporary quarters for the six month season.  No pets allowed. Could I keep Stanley, a big confident yellow tabby cat and his buddy Ollie, a suavely handsome gray tiger kitty?  That was four years ago.
Can't say Mikelle was pleased with her feline friends. They were tolerated, not enjoyed. After Stanley went on to heavenly mouse filled fields, Ollie decided Mikelle was his new best friend.  Ollie has a way of worming into your heart, one step at a time. Soon, Mikelle's bed became his.  Her bed became his favorite place to nap. He'd help make the bed each morning, playing with her phone charger cord then diving under the covers as if he just found a buried treasure. At night, one of us would help Mikelle to bed, lifting her on the to bed then putting her favorite slippers on her chilly feet and plugging in her red flip-phone before tucking it into her nearby purse, the white one, she insisted on sleeping with each night.
Ollie insisted on sleeping with her every night too. No matter how many times she would holler to get him off of her bed, he would find a way to sneak on to the foot of her bed, then later curl up against her head as she slumbered on her sky blue pillowcase. If she awoke, she would call into the night until I could remove this annoyance.
Today, I took Ollie into the veterinarian. His bright golden eyes setting heavy at half-mast. His perky ears lay flat and his body lay dreary on the exam table.  Upon returning from an exam, blood tests, x-rays and a take your breath away bill for services rendered, I slid him out of his red tented cat carrier and place Ollie on his favorite spot on her bed while Mikelle watched as I stroked his feverish head.Cupping her hand around her joystick, her wheels pivoting as she quietly glided next to her bed. She released her joystick, feeling the unrealized concern course down her shoulders, pass through her tight wrists into her captured finger tips as she reached for Ollie.  She humbly stroked his fur the way a mother strokes the face of her newborn baby.
Perhaps, she loves cats, after all.