Meet new roommate, Ashley Ryder.  Ashley moved in with Mikelle and me in November just before the Thanksgiving holiday. Don't worry,  Taylor is still helping out even though she moved out in October.  
Ashley's first blog for The Shining Beautiful Community.
Moving truck loaded: check
Final hugs and kisses doled out: check
Itinerary established: check, kind of
Small supply of delicious local New Orleans fare for the road: double check and it probably won't make it out of Louisiana
Well, I guess there's nothing stopping me.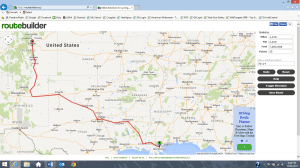 Time to move, and time to move on. Leaving New Orleans and headed for Denver, literally the Mile High City. The irony is not lost on me. The week-long farewell extravaganza was full of dancing, karaoke-ing, gallivanting and heart-felt hugging; a great way to say good bye to the Big Easy.
It's never easy saying goodbye, but the promises of a better future has kept my spirits up. Which I needed, especially on Travel Day 2 going through Amarillo with an upset and painfully vocal kitty in my face…….
…..Yeah, talk about finding a happy cave.
Thankfully, my other cat seemed to be handling the three day drive in stride…….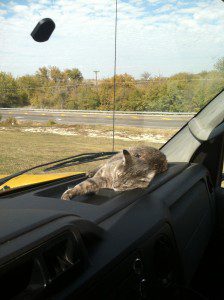 The first night was rather uneventful, sleeping in a Shreveport flea bag motel tends to prohibit any good stories. And other than the dreadful Northern Texas scenery, the rest of the trip went by pretty smoothly. Anxious to meet my new roommates and a bit road weary, I was glad to finally park the Penske and walk up to my new home in Denver. A warm welcoming party was waiting for me upstairs in apartment 202 and, man, did I need a break from the cab of that moving truck. Most of the people that I met I had already interacted with via Skype previously, but it was nice to finally be there in person and start making a new home for myself in this very foreign living situation.
I happened upon a listing on Craigslist for a live-in caregiver/roommate to a woman with cerebral palsy back in September. I knew exactly nothing about this condition, but on-the-job training is the best teacher. After a handful of Skype interviews, I realized that I needed this position as much, if not more, than Mikelle and Katherine needed a good roommate.
Where else would I have the opportunity to focus my time on school instead of having to work full-time just to put food on the table?
Thankfully, it was a natural fit. My experience taking care of my aging mom, a jewelry-making background, physical fitness (thanks Coast Guard) and the ability to quickly adapt to a new living situation (thanks gypsy blood) has all helped make this transition a bit smoother. This first month has been mostly an orientation and an assessment of my strengths and weaknesses.
I get to do a lot more introspection these days. Talks with Katherine over morning coffee have given me a great insight into who Mikelle is and how I can help her be the independent woman she is trying to be. Getting into the mind of a person who doesn't use verbal communication is a new challenge I never thought I'd have to undertake. But I've really learned a lot about the subtleties of body language in the short amount of time I've been here.
I have a lot to learn, but I'm not alone. I have great people always around to help me and answer all of my questions. The most helpful person, however, has been Mikelle herself.
I can always go to her if I have a question because she will know the answer to my questions:
Where do the towels go?
How do you like your bed made? (To perfection)
How many pot stickers to make for lunch.
The list goes on.
Some days are harder than others, but the support from the people here, like Katherine and Taylor helps. I've found having the right attitude makes all the difference in the world. I am willing to learn new things everyday.
I'm happy to be here in Denver and am ready for the challenges that are sure to come my way.