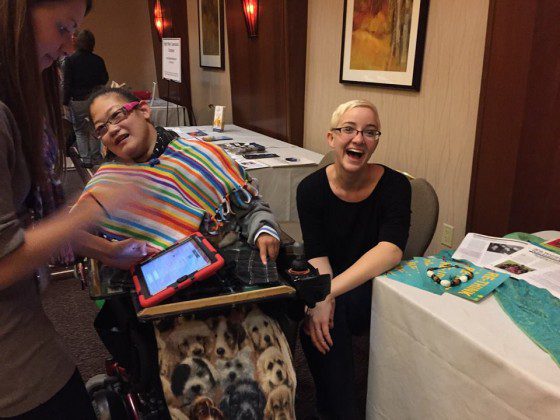 Fall of 2014
A Brief Update
Fall is a wonderful, magical time of year. The cool and crisp mornings that bring the coloring of leaves, the sudden drop of temperatures, the return of our favorite holiday flavored coffees, all this stirs in us a feeling of excitement. For the Shining Beautiful household fall brings many changes, this year in particular. Taylor, our roommate, moved out in the beginning of October. It's been hard for Mikelle to adjust to the idea. For her it means that her dear friend is leaving, ditching her for another life. While we know that Taylor will always be our friend and helper it can be hard to see past the empty room and the sudden lack of singing in the shower.
It's an arduous process, convincing Mikelle that she is still loved and treasured by her former roomie, but completely worth it. Taylor still comes over four or five days a week to hang out with Mikelle. Most recently, they spent time driving around and enjoying the fall scenery. They indulged in tasty coffees and trips to various stores for purses and warmer clothes. It seems that the girls' sisterhood will survive (and perhaps strengthen from) this development. While roommates come and go, each one is harder than the last to let go. We have a wonderful prospect for a new roommate and we eagerly await her arrival.
Fall has also been a productive time for the Shining Beautiful gals. Last weekend we attended the Families at the Forefront of Technology conference in Snowmass and learned a great deal about new assistive technologies that will help change the lives of many. To learn more about the conference continue to follow our blog.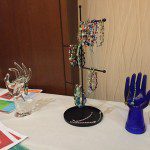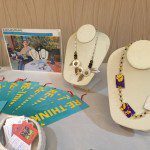 While at the conference Mikelle showed off her entrepreneurial skills by selling bracelets, necklaces and earrings to those in attendance. Every person she met left her with a smile on their faces. She brightens even the sourest of personages with her infectious laughter and dazzling smiles.
Jack, Mikelle's nephew, joined us for the weekend in the mountains. For an eleven year old boy, he presented himself very well to the many new people in attendance. Mikelle is as proud of him as ever even though she was also slightly annoyed by his constant chatter in the car. He entertained us all with his wild imagination and endless fount of energy. We hope to bring him along on other such trips.
Winter is coming and with it new challenges. Mikelle doesn't care much for the snow. She hopes to avoid as much of it as she can. She also bids you, her readers, to enjoy this brief fall while it lasts. Stay warm and stay happy!