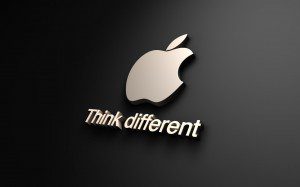 We Got a Bite Out of the Apple
Ron Ustach, a Senior Engineer and the Western States Government Sales Representative with Apple Computers, recently blew into Denver on a strong March wind. This, his second visit to the Mile High City, followed his meeting with the Colorado Developmental Disabilities Council last January, when we heard Ron's presentation on the new, impressive accessibility features of the iOS7 Apple operating system.
The January meeting with Ron ignited the flames of possibilities for updating rehabilitation practices to 21st Century standards. My fellow DD Council members and I have been passionate about increasing awareness and implementation strategies, including the use of technology. The modern world insists on connecting everywhere, and technology has become the glue which holds the world's connections together. And yet, people with disabilities, especially those with intellectual and developmental disabilities, do not have easy access to the online community. By working with Apple, we hope to address the challenge of preventing 21st Century Segregation created by professionals without their even knowing it. Our mission is community inclusion, not exclusion.
As we focus on technology and work to determine whether that focus, we must ask this question:
"Do I have a smart phone or a tablet?"
Most rehabilitation professionals will reply they have one or more of these devices, yet less than 10% of people with disabilities have access to the same devices.
Christy Blakely, another special needs parent, is as determined as I am to change that statistic. As a parent representative on the Medical Services Board, her efforts were instrumental in changing rules in Colorado Medicaid policies, allowing Medicaid to fund the purchase of iPads and other similar devices for communication and medical necessity. Good news.
Despite Christy's efforts, however, few devices have been purchased. Turning to Medicaid officials and to me, she asked if Apple could help.
Three weeks later, Ron, Christy and Maureen Staple from Assistive Technology Partners and DD Council Executive Director, Marcia Tewell and I met at Curious Coffee in preparation for our meeting with Medicaid officials later that afternoon. Each of excitedly shared our small piece of the rehab puzzle with Ron. In turn, he presented information regarding innovations Apple recently made to its operating system. An hour later, we walked across the street, signed in, collected our badges and were escorted to the 3rd floor conference room, the home of Health Care and Public Financing, aka, Medicaid.
We politely sat around the walnut veneer table, then huddled around Ron, who demonstrated the latest accessibility feature—eye gaze control using iPad's built-in camera. This device has the ability to simplify life for so many; but as technology streamlines life for people with disability, it becomes more and more apparent that the systems supporting people with disabilities are as scattered as a bag of dropped marbles.
That afternoon, we were fortunate to have the right people at the table. After assembling the facts and data, it became as clear as a Colorado blue sky that the problem is that we needed a Medicare-approved vendor who is an authorized Apple product reseller.
We discovered that such a vendor does not exist in Colorado. The task of finding such a vendor seems daunting: How long will it take to obtain the right provider? Do we have anyone currently in the system that might work to serve as a vendor? We held the problem up to the light looking at all the angles. Meanwhile, Ron sat at the end of the conference table texting on his iPhone. Within minutes, he announced he thought he had located a vendor in New Mexico who might just work.
Two hours later, Mauureen, Christy and I sat together in a conference room with Ron at AT Partners, huddled over a speaker phone, listening to our potential vendor from New Mexico. They committed to submit an application to Medicaid by the end of the week.
What an astonishing outcome for an afternoon's work –it felt as if we had accomplished three year's work in three hours!
The next day, Ron and I had a conference call with a group of parents in the Roaring Fork Valley. These firecracker parents have been innovating for their children and others using SmartHome technology. Each of them shared their ideas with Ron. Clearly, he was impressed.
"Would you be willing to come to Aspen this summer?" they asked.
"I think I can make that work," he replied.
And a high tech conference was born.
I think we may have finally stepped out of the 20th Century and into the 21th Century. I couldn't be happier.
.