A Note from Katherine Carol. (the Mom)
I sent this poem to members of the Roommate Club like Lauren Perfors, Kari Delany and Adriana Carlson Pogar. It wasn't long before I heard from them all. Yep. This captures the experience of knowing Mikelle.  I could see the smiles cross their beautiful faces as if I was there watching them read this lovely poem by Taylor Mason, our current roommate and friend.

I asked Taylor Mason to come up with something for our blog. I know you will enjoy it they way I did.  A tear may come to the corner of your eye. You may feel your heart fill with love.  It just may make a smile come to your face, too. 
Simple words capturing love shining beautiful.  I feel so blessed.  Mikelle and I are privileged to know such fine young women. They are the change we want to see in the world.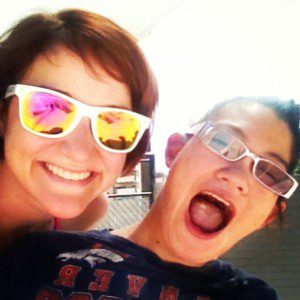 10 Things I Like About You
I like the way you grin at me, 
and the way you style your hair.
I like the way you let me drive you,
I like it that you don't care.
I like your glasses and your blanket, 
and the way we can read each others mind.
I like you so much it makes me silly,
it even makes me rhyme.
I like the way you're usually right, 
I like how you try.
I like it when you make me laugh, 
even when it makes me cry.
I like it whenever you're  around, 
and the fact that you always call.
But mostly I like the way you like me,
like a roommate…
like a sister…
like a friend.
Mikelle you're the best!
by Taylor Mason
Original poem from the movie Ten Things I Hate About You