Mikelle throws unforgettable parties, and her 30th birthday party today proved once again her uncanny ability to bring together an unexpected community of people in all different places in life with one common denominator: we are all addicted to hanging out with Mikelle.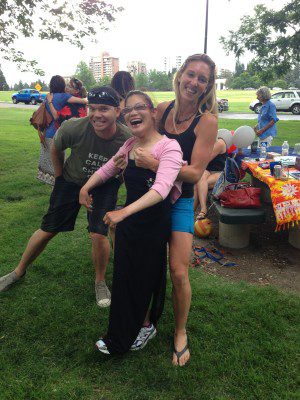 Mikelle expressed herself with her normally unique style that can't help but make you smile – who else can get away with a sleek black spaghetti strap dress with neon green leggings and squeaky clean new tennys? And let me just tell you – she looked goooood.
Mikelle has come so far in the last 6 years, and she has brought us all along for the ride (literally) with her. Mikelle is integral to not only the success of our community together, but also has played a part in helping us become who we are today. If it weren't for Mikelle, I would not have known any of the people she introduced me to over the years; the same fun-loving, light-hearted and amazingly intelligent group who I spent hours laughing, joking, and catching up with under the June sunshine this afternoon.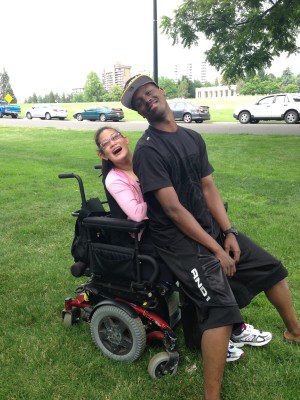 In some ways, today mirrored past years: Mikelle still flirts shamelessly with Jerome, who was no doubt out partying the night prior. Chelsea and I repeatedly make wildly inappropriate jokes and we practically salivate over the cake. Ian is planning his next travel and his next ambitious entrepreneurial/political challenge. Mikelle's mom Katherine continues to take over the world, one life at a time.
Then you look closer to see how much we have all grown and changed since Mikelle brought us in to her life. Adriana bounces her beautiful 2nd baby Anika on her knee. Katherine shows off her 4-years earned salsa dancing skills. My husband Steve held baby Anika, voluntarily. I got compared to the wife in Spanglish (thanks Chelsea…), hobbling around having completed my first half-marathon. Ian and Kristin share their fabulous Asian trip plans and Ian is diving head-first in to an exciting political career.
Mikelle and Katherine had just returned from speaking at a Community Event, where they showcased their newly published book and talked about how to empower yourself and others through a strong community. Only days later, here they are at Mikelle's birthday party leading the way by example.
Happy 30th birthday, Mikelle… our Bella!