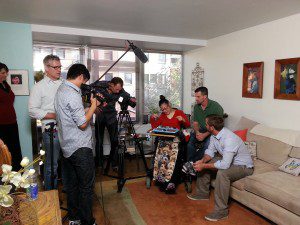 On a Thursday afternoon, a film crew hired by Dell Computers  from Arts + Labor https://www.arts-and-labor.com located in Austin, Texas spilled into our living room to film Mikelle and a few other folks in Denver who are served by Rocky Mountain Human Services www.rockymountainhumanservices.org
Dell is jumping into the assistive technology business by providing a service which helps families, school districts and other providers work sort through the increasingly complex maze of assistive technology.  So, Mikelle was a film star.  The video made from this visit to Denver will be shown at the Dell World Conference in December where former President Clinton will be speaking.  Mikelle will virtually share the stage with him.  Pretty cool.
We are excited by this event because it gives needed attention on 21st Century Rehabilitation strategies which at Shining Beautiful we think is so important for people with disabilities to be included in the community of today and tomorrow.  Otherwise, we create 21st segregation.  Today, people with disabilities access the community through technology.
The unfortunate reality is that many people with disabilities  need basic technology, cell phones, laptops and assistive technology devices, but don't have them or don't know how to use them.
We are hopeful this new service will highlight the success people with disabilities can have when they can access the appropriate technology.
We speak from experience.  Without technology–Mikelle would not be working, presenting and building her brilliant community.
Don't forget to get your FREE Individual Technology Plan!