In a bone-dry park in the middle of Denver, Colorado—friends gathered for a celebration.   Cool people came on this hot, record breaking summer day.  The temperature raced to the top of the thermometer, breaking open a 105 degree record.
As the smell of parched grass filled the air the wind sucked out the remains of moisture from the festive air.  In the distance, a rainbow colored umbrella marked the spot where friendship and commitment would stand its' ground.
The time: 2:00pm.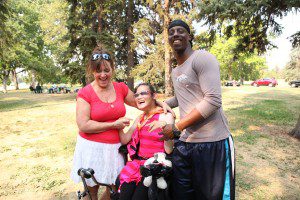 The date: Mikelle's birthday—her 29th to be exact.
The forecast called for hot and hotter weather. Would our friends come out on this impossibly hot afternoon to celebrate Mikelle's birthday? Would Mikelle hold up under the intense sunshine beating down her as she sat, her body strapped into her black molded, seat perched atop of her fiery red wheelchair?
"Mikelle, do you think we should find a new location for your party?" I asked. "Or, we might want to postpone it for a week."
"No!" She repeated five times as her left hand lifted, her index finger tapping her ECHO communication device voicing total rejection of that idea.
Invitations had been sent out via Facebook.  Nearly everyone had confirmed they would be there. But, that was before the sun decided to scorch our tender earth.   As the morning progressed, the temperature rose and so did the doubt in everyone's mind?  Will Katherine and Mikelle break with the long-standing tradition and cancel the annual volleyball/birthday party?
Text messages popped up all morning long.  "We still on?"  "Yep" I replied.
I thought to myself, "This could be a great day or this could be a very long, hot afternoon".
We fell into this tradition of volleyball birthdays like we fell into a rich caramel Frappuccino on a sultry day.  Eight years ago just by happenstance, we found out Mikelle had a desire to compete beyond the classroom. One early summer evening, Mikelle, her friend Jerome and I stopped by our favorite Starbucks on the corner of 6th and Lincoln Street. Everyone was excited about their store picnic that evening.  As a favorite regular, Mikelle quickly was invited to join the fun at nearby Washington Park.  After a few hotdogs and hamburgers, the volleyball game was ready to commence.  One by one, Starbuck baristas headed across the canal over a small cement bridge to the volleyball court they had laid out neatly on the grass.
Jerome and I assumed we just sit and watch the game, have another cool drink and hang out.  Mikelle thought otherwise. Her jaw jutted out with determination as she went for her hand control pushing it hard forward, the wheels grabbed the dirt, spun for a second and she took off racing to join the game.  There planting herself next to one of her favorite barista's, she officially claiming her place on the team.
Surprised, I wondered the team of able bodied youth would embrace Mikelle's sudden arrival on their little piece of volleyball real estate.  For a minute, the breeze stood still, time slowed and everyone looked at each other. One barista nodded to the group signaling to the others—let's play. They knew Mikelle was here to play. Without a single word exchanged, they made sure she did.  Since that day, when I learned how competitive my daughter can be—we have had a volleyball/birthday game for the last eight years.
Welcome to Mikelle's birthday party.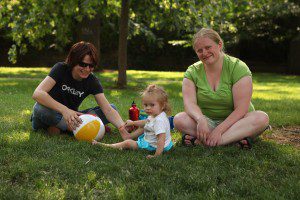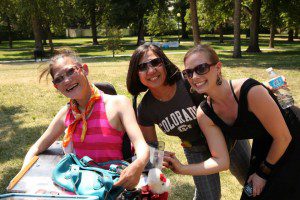 Once you have attended one of these celebrations, you find yourself compelled to attend all of them—even on a hot, sweaty summer afternoon.  Ian Harwick always brings the volleyball net. Today, between sips from a cold brew, he puts up the net between two shade trees, the only place where the sun hasn't baked the earth rock hard. His new wife, Kristen assists him.  Jerome Stewart, Mikelle's long time friend from East High school, helps while misting Mikelle with a water bottle, cooling off his best girl.
Cousin Maggie and partner, Tedy, pass out squirt guns to Adriana, Kari and Susi, all former roommates of Mikelle's.  Familiar squeals and laughter float next to birthday balloons as they chase each other around our picnic bench in Cheeseman Park with their new found waterpower.  Adriana comes with her husband Chris, who used Gummy Bears to win Mikelle's heart—knowing if Mikelle loved him, Adriana's heart would follow soon. Running around playing with a little beach ball is Leila, Adriana and Chris's little two year old daughter.
Arriving fashionably late is Chelsea. She worked with Ian at the Starbucks. Our actress friend is fresh from rehearsing for her upcoming play at the Center for Performing Arts.  Love has been a constant in her friendship with Mikelle ever since they met.  Chelsea, dressed in her green Starbucks apron came from around the counter, pronounced with a big smile and quick hug—so you are the Divine Ms. M! And, they have been gossiping about boys ever since.Anna and Tiffany are the newest addition to the friendship's circle.   Jose, Mikelle's former boyfriend and now good friend rolled off the bus with his good humor to spice up the afternoon.
Gift cards from Starbucks, Claire's and the local grocery store filled the table.  But, without out a doubt, tenderness cooled our over-baked bodies when Jerome stood up and walked over to Mikelle. Leaning down to her eye level,
he ignites a quick smile with his good looks. Extending his hand to her, she finds a small jewelry box
The index finger springs from her clenched hand and pulls the top off the box. There shimmering in the bright sunlight was a golden locket encased with tiny crystals.
Jerome's eyes moisten as he reads from the card in the other hand, "Mikelle, I don't show it muc
h, but you are my girl. I love you and will always be there for you." Those words, so tender and sweet were the links in friendship's necklace.
From that moment on–no one noticed the heat.
Sometimes love is inconvenient.  Today it was not convenient to support Mikelle in celebrating her birthday.  It would have been easy to stay inside next to the air conditioner but these wonderful folks chose to make a difference that day—and we all benefited.
Some ideas for you:
Become a regular.
Have a good story to tell.  Mikelle had a picture book she used to bring with her before the iPad days, showing people how engaged in life she was. Immediately, people began to see past her disability and see her "Abilities."
Make it fun!