By Katherine Carol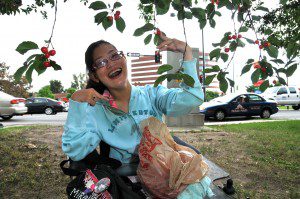 Take two twenty "somethings" dressed like early summer, one gliding gracefully, looking like a modern Renaissance painting, long, lightly seasoned red hair, luminous blue eyes with a smile that softly creeps up her porcelain face. The other shorter, dark, exotically Asian, slender limbs seated elegantly in her red carriage, its whirs and clicks for the moment by me, the sumptuous maven gracefully guiding the next generation on an urban adventure in culinary delight. In our hands a double lined plastic bag from the local grocery store, the recycled bag, forgotten at home. The traffic on 6th Avenue heads east, oblivious to our little secret adventure. A warm breeze ushers in the climbing late morning temperatures, already in the low 80's. It feels hot and sultry after our week of cool, sometimes drenching rains. Uneven asphalt sparkles, the cracked cement washed clean, and small weeds greet our feet as we cross Speer and 6th riding the bumpy pavement towards our secret destination. Quietly, an older man slender and strong arrives on the corner just as we do. His snowy white hair matches the small white bucket in his hand—could it be he has the same brilliant idea in mind? Dark eyes peer over the top of wire-rimmed glasses, his overgrown eyebrows arch up, not sure if we are competitors or collaborators. We nod our acknowledgments and smile—there is plenty for all of us at the bridge on 6th and Speer. Red, juicy, plump, ready to pick cherries wait for us. They are free. Neither Mikelle nor her roommate, Adriana, has ever picked cherries. Last year, it was a thought, hanging like a ripe fruit, but I was too late; the picking time had passed and the cherries were gone. But, not this year, not this day—it is a perfect day for picking cherries. Indeed it was a perfect day. It had started off with breakfast—al fresco at the Park Tavern on 11th and Ogden, the only time of day I can stand the place, not too many smokers or drinkers in the morning, fewer tattoos than in the evening when a more rowdy energy prevails. In the morning, the neighborhood wakens to a peaceful, slow rhythm and I am with two lovely ladies and a perfect veggie omelet.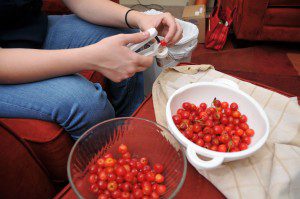 After a satisfying conversation, Mikelle keeps us moving with her electronic chatter sounding from her communication device as we walk to Queen Soopers on 9th and Corona. We pick up a Marie Callender's pie crust, frozen and wrapped in plastic, and start our search for a cherry pitter—my old one now long gone, thrown out after one of my marriages. No pitter; let's go across the street to the Ace Hardware, it is on the way to the creek.
Mikelle and Adriana take in the sun warming their tender faces near the doorway. I enter, a bell rings announcing my presence as I approach the man tall with a crew cut, shaggy mustache. The old floors snap under my feet just as he does when I ask, "You don't happen to carry cherry pitters, do you?"
"Oh, girl, I have only one left. Let me get it for you, come this way. Where are you picking those cherries, honey?"
"6th and Speer."
His eyebrows rise as if to say, "You go, girl!" And, we bought the last cherry pitter in Capitol Hill.
Mikelle reaches up lightly, her long slender fingers twisted, her lips pursing with concentration as she picks the low-hanging fruit. Adriana holding the branch lower to be within her reach. I am watching and picking cherries as they dance their love dance, Adriana caught up in the music of the movement, the magic of little things, while motorists whiz by staring as we hunt nature's surprise bounty, a bounty they were too busy to appreciate.
The ground is wet, slippery. The ledge, framing the erratically flowing Cherry Creek, had been built back in the day when Mayor Speer had seen the future of Denver. Could he have seen this moment, nearly a century later, when he decided to plant cherry trees along Cherry Creek?
Mikelle moves closer to the edge reaching for another branch, her nubby wheelchair tires failing to grip the sparsely grassed soil, her wheels sliding closer to the edge, a four to five foot drop below to the bike path. Adriana and I move quickly to muscle her to safety.
Soon the kitchen is full of activity as one pits cherries, the other watches and everyone owns a piece of this pie.